Seasonal Annual & Perennial Plants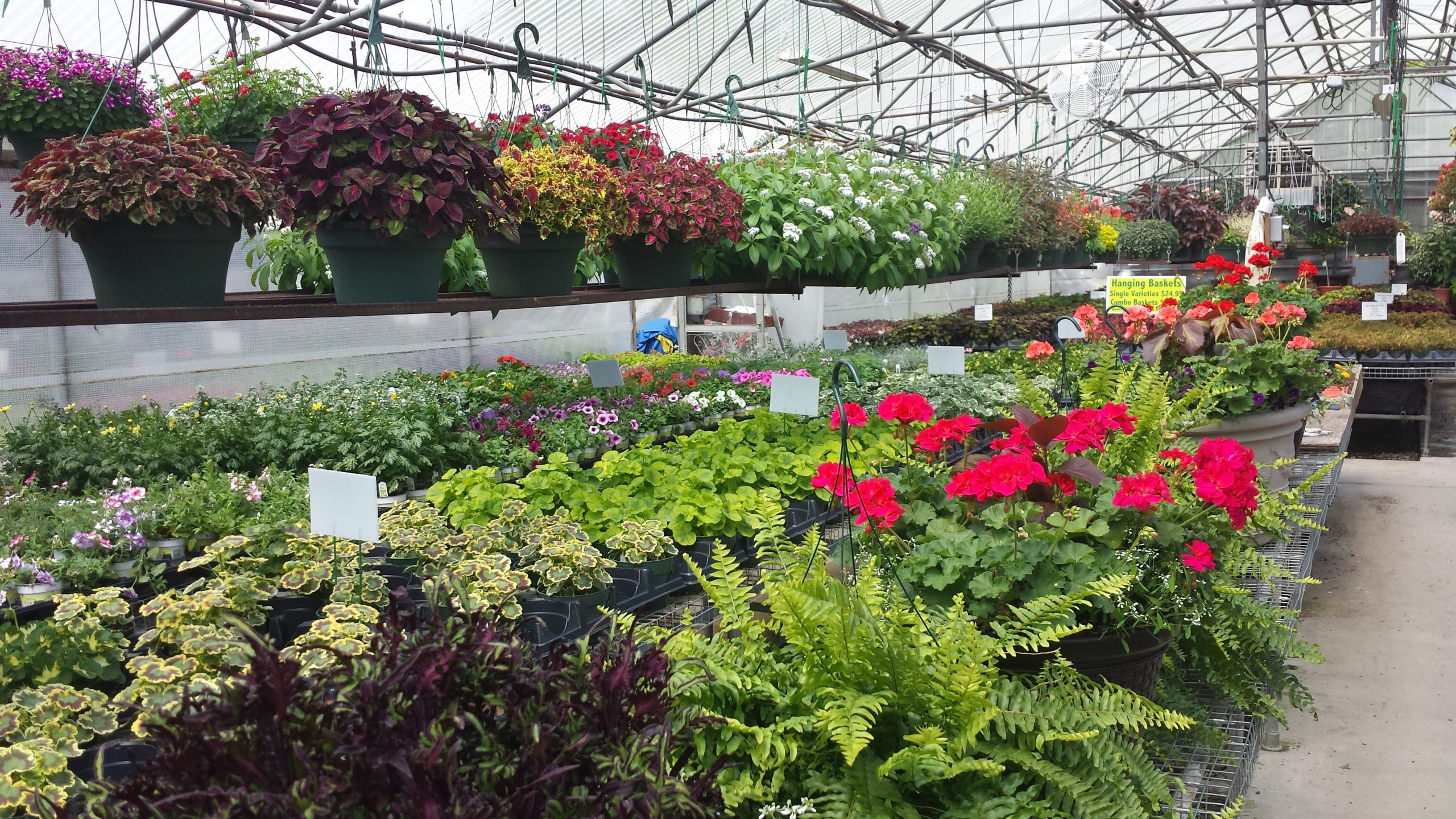 Our greenhouse is open seasonally from April through December.
We carry a wide variety of flowers and plants in small and large containers, ready-made hanging baskets, and container gardens. All of our hanging baskets are in large 12″ pots—bigger than most big box store containers.
Our ever-changing seasonal selections include:
Winter Pansies and Fall Mums
Flowering Annuals—both sun and shade
Flowering Perennials—both sun and shade
Landscaping Plants—specifically selected for West Virginia climate and soils
And, of course, Mary's Signature Poinsettias (available in December)
Stop in—we're worth the trip.
Handpicked For You® Certified
Our plants are backed by the "Handpicked for You" certification program. Find out more about the program at handpickedplants.com. Take a look at   "Handpicked For You" certified plants.
Take a look at some examples of the high-quality plants we grow throughout the year.
List of Seasonal Flowers & Plants
Here's a list of annual and perrenial flowers and plants we usually carry, depending upon availability and season.
Come Visit Us!
Mary's Greenhouse &
Terra Flora Landscaping
300 Ward Ave., Elkins, WV 26241
Call us: (304) 636-2199
Email: Terra Flora Landscaping
Email: Mary's Greenhouse & Nursery
Greenhouse & Nursery Hours
Spring (April 15th-June 15th)
Monday-Friday: 9 am-5 pm
Saturdays: 9 am-5 pm
Sundays: Noon-5 pm
Seasonal (April, Sept., Dec.)
Monday-Friday: 9 am-5 pm
Saturdays: 9 am-1pm
Sundays: Closed
All other times the greenhouse is open by appointment only.
Join Our Email List
Get notification of sales of our flowers and plants in Mary's Greenhouse. We do not share your email with third-parties. You can unsubscribe at any time.
Perennial Plants
Achillea
Ajuga
Aianthus
Alyssum
Ameria
Arabis
Artemesia
Asters
Asbilbe
Baby's Breath
Balloon Flower
Bellis
Bergenia
Bleeding Hearts
Buddleia
Campanula
Candytuff
Caryopteris
Chrysanthemum
Clematis
Columbine
Coral Bells
Coreopsis
Cornflower
Crocosmia
Cupids Dart
Daylilys
Delosperma
Delphinium
Echinacea
Euphorbia
Forget Me Not
Foxglove
Gallardia
Gaura
Helianthemum
Heliopsis
Hens and Chicks
Hollyhock
Hostas
Iris
Jacobs Ladder
Jasione
Lambs Ear
Lamium
Ladys Mantle
Lavender
Leopards Bane
Liatris
Lily of the Valley
Lobelia
Monkshood
Nepeta
Ornamental Grasses
Oriental Poppy
Penstemon
Peonys
Phlox, Garden
Phlox, Creeping
Physostegia
Purple Rock Cress
Red Hot Poker
Red Valerian
Groundcover Roses
Rudebeckia
Russian Sage
Santolina
Saxifrage
Scabiosa
Sedums
Sagina
Salvia
Sandword
Statice
Tradescantia
Veronica
Ferns & Flowering Annuals
Ageratum
Alternathera Plectranthrus Argentatus
Asparagus Ferns
Bacopa
Calibrachoa (Million Bells)
Cleome
Coleus, Sun
Dahlias
Diascia
Dracaena
Dusty Miller
Flowering Tobacco
Fushia
Gazania
Fountain Grass, Annual
Geraniums
Heliotrope
Impatiens, New Guinea
Ivy, Varigated
Lantana, Patriot
Licorice Plant
Marigolds
Osteosperum
Petunias, Wave
Petunias, Surfina
Scavola
Tapien
Temari
Torenia
Verbena
Vinca Vine
Hanging Baskets
Scavola
Strawflower
Bacopa
Superpetunias
Surfina Petunias
Angelonia
Torenia
Lobelia
Fushia
Million Bells
Streptocarpella
Coleus, Sun
Patriot Lantanas
Helitrope
Impatiens, New Guinea
Ivy
Geraniums