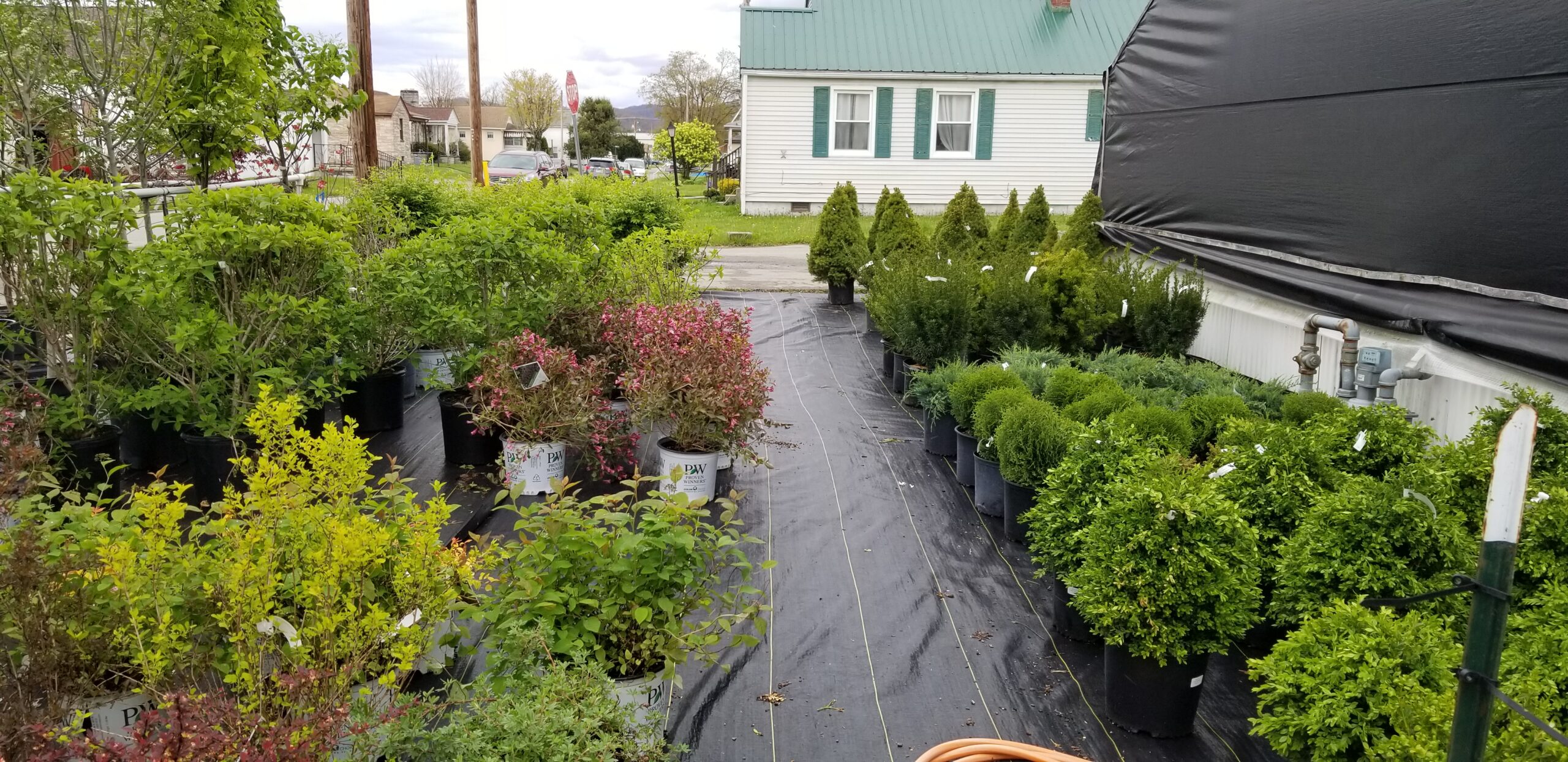 We offer one of the widest selection of trees and shrubs in the area.
You can expect to find quality plants—including the newest varieties available as well as traditional favorites that have proven to do well in our environment.
Our team of West Virginia-certified professional horticulturists are here to help you. We take great pride in our outstanding customer service. Our reputation depends on your success so ask us questions and stop in to see our great selection of nursery plants. Please ask us about our guarantee (link to guarantee) for trees & shrubs.
When you're here check our rose bushes—healthy, beautiful hybrid teas, floribundas, grandifloras, miniature roses and the very popular and very hardy "Knock Out" roses. Perfect choices for Mother's Day!
Tree and Shrub Catalog
We offer a variety of nursery stock—you can check out our selection below or stop in to see what we have currently onsite. If you need something that you don't see here, don't hesitate to ask us. Here are some of our most popular options:
Deer Resistant Plants
There is no such thing as deer-proof plants. Deer have been known to eat almost anything if the deer population is large enough and food is scarce. However, there are some plants that are much less palatable to deer. Take a look at this list of trees and shrubs for options.
Stop in—we're worth the trip.
Take a look at some examples of the high-quality plants we grow throughout the year.
List of Trees & Shrubs
Here's a list of trees & shrubs we usually carry, depending upon availability and season. We also carry rose bushes for Monther's Day sales.
Join Our Email List
Get notification of sales of our flowers and plants in Mary's Greenhouse. We do not share your email with third-parties. You can unsubscribe at any time.
Trees
Cherry
Snow Fountain
Kwanxan
Snow Goose
Yeodensis
Crab Apple
Dogwoods
Kousa
Blue Shadow
Snow Tower
Hawthorne
Lilac
Palibin (patio)
Ivory Silk
Magnolia
Henry Hicks
Northern Belle
Maples
Bloodgood
October Glory Sun Valley
Crimson King
Redbuds
Vibernum
Shrubs, Deciduous
Barberry
Sunjoy Mini Salsa
Concorde
Sunjoy Todo
Burning Bush
Hydrangea
Invincebelle Limetta
Limelight
Spiraea
Little Princess
Double Play Golf
Weiglea
Shrubs, Evergreen
Arborvitae
Hets Midget
Green Giant
Emerald Green
Azalea
Girards Hot Shot
Herbert
Renee Michelle
Boxwoods
Green Beauty
Green Mountain Green Velvet
Green Gem
Chamaecypris
Holly
Blue Princess
Chirstmas Jewel
Juniper
Rhododendron
Bousault 15″
Cunningham White
English Roseum
Yews
Dsensiformis
Hicksi Yew Upright